Welcome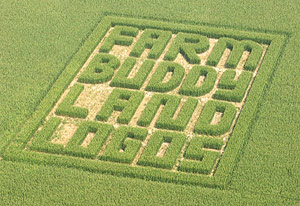 Welcome to our website. LandLogo LLC creates ground based reproductions of company logos, names, slogans and profile images utilizing modern global positioning systems, laser measurement equipment and precision farming practices. Your logo or message can be recreated in open fields, near airports, on hillsides or along elevated roadways. Contact Us for a quote of your desired logo or message.
Your logo will be viewable by air travel passengers, private pilots and visitors to your area. See our F.A.Q. (Frequently Asked Questions) for more details.
LandLogo licenses are now being sold to qualified businesses, individuals, farmers and lawn care services across the country. See Licensee Info for more information and the application forms. Please check back often for new license opportunities, available land and new sample images.